6 simple ways to collect customer feedback in 2023
4 minutes  March 05, 2023
Collecting feedback
Collecting customer feedback can be a lucrative activity. Taken seriously, it can be key to making better product decisions and growing your business.
However, with so many different methods of collecting feedback available, it can get overwhelming.
This post is meant to be a helpful resource on the main strategies of collecting customer feedback, so you can assess the various methods available and devise a feedback strategy for your business.
There are six methods covered in this post. They are:
Feedback boards
A feedback board is a great tool to crowdsource suggestions in a single place. They let your users post and vote on feedback within your website or app, resulting in a list of prioritized requests that you can incorporate into your product roadmap.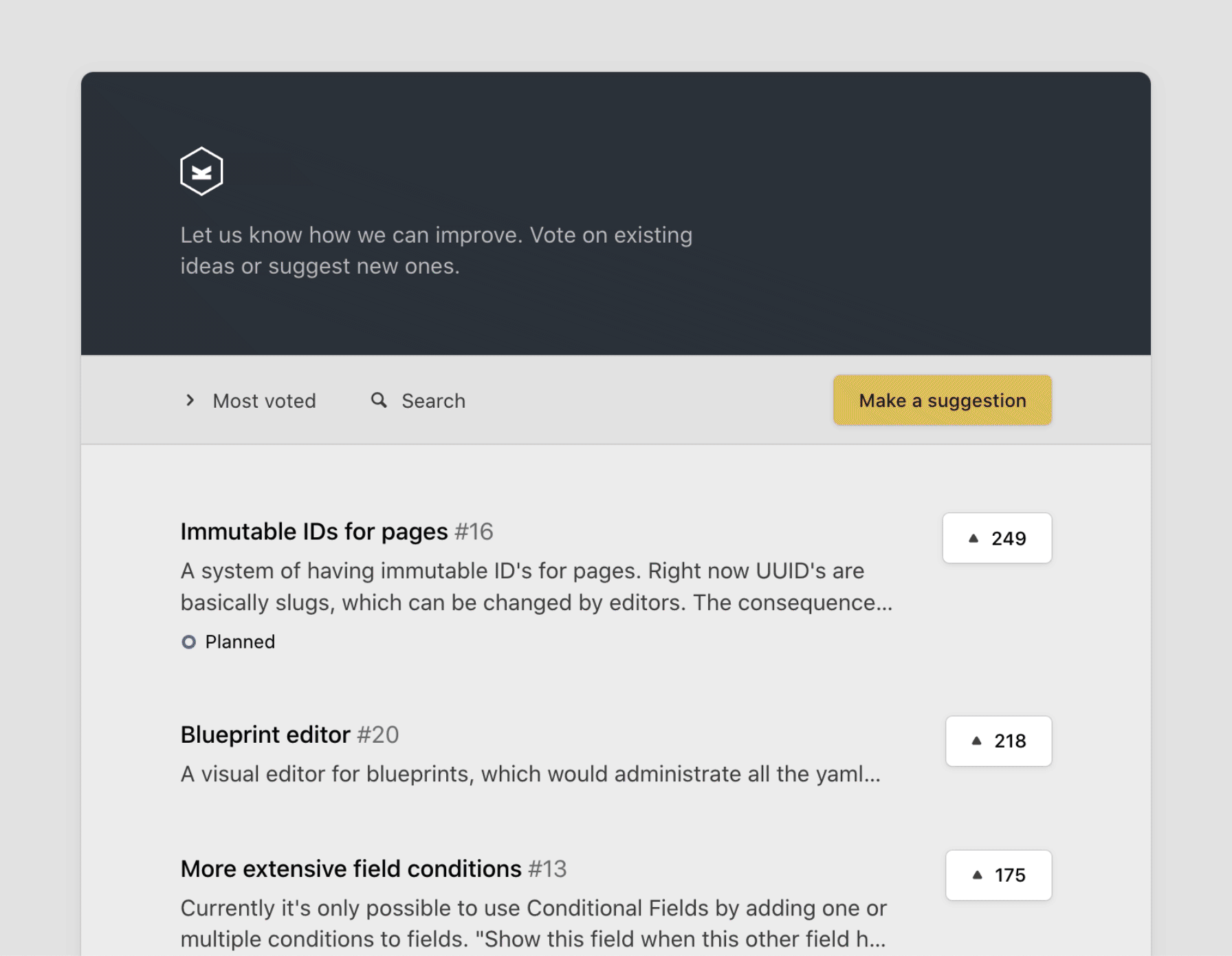 By maintaining an active feedback board, you'll see which suggestions have been upvoted the most and you'll be able to make better product decisions based on quantified customer feedback.
You'll want to make it easy for your users to find your board by placing a link to your board in your website footer or app's main navigation, like this:
Another tip – you can allow your users to leave anonymous feedback on your board, which can lead to a greater volume of feedback. But it could lead to more honest feedback as well, so be prepared!
You can create a beautiful feedback board within minutes using Nolt.
Transactional emails
Transactional emails are sent to users when they takes specific actions. They can be a powerful way to ask for and receive feedback, because they are timely and relevant for the customer.
Here are a few interactions that work well for transactional emails asking for feedback:
After a customer purchases or signs up
After a customer cancels or refunds
After a customer gets their customer support ticket resolved
Here's an example of a transactional email I received from Bellroy, an accessories company from Australia, after I interacted with their support team:
When asking for feedback in transactional emails, you should always keep it simple. Either send one short question or a simple multiple-choice question. You want to make it really easy to understand and respond to.
Here's an example of a transactional feedback request email from Dragos Bulugean, founder of Archbee. I love his simple and straightforward approach: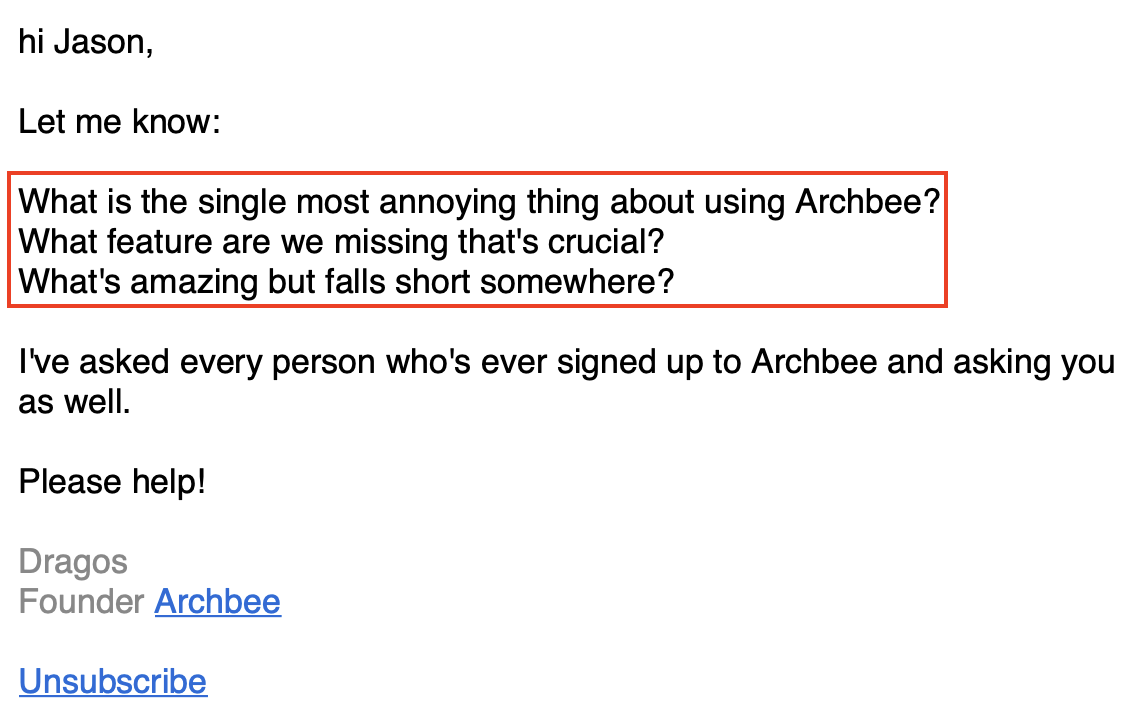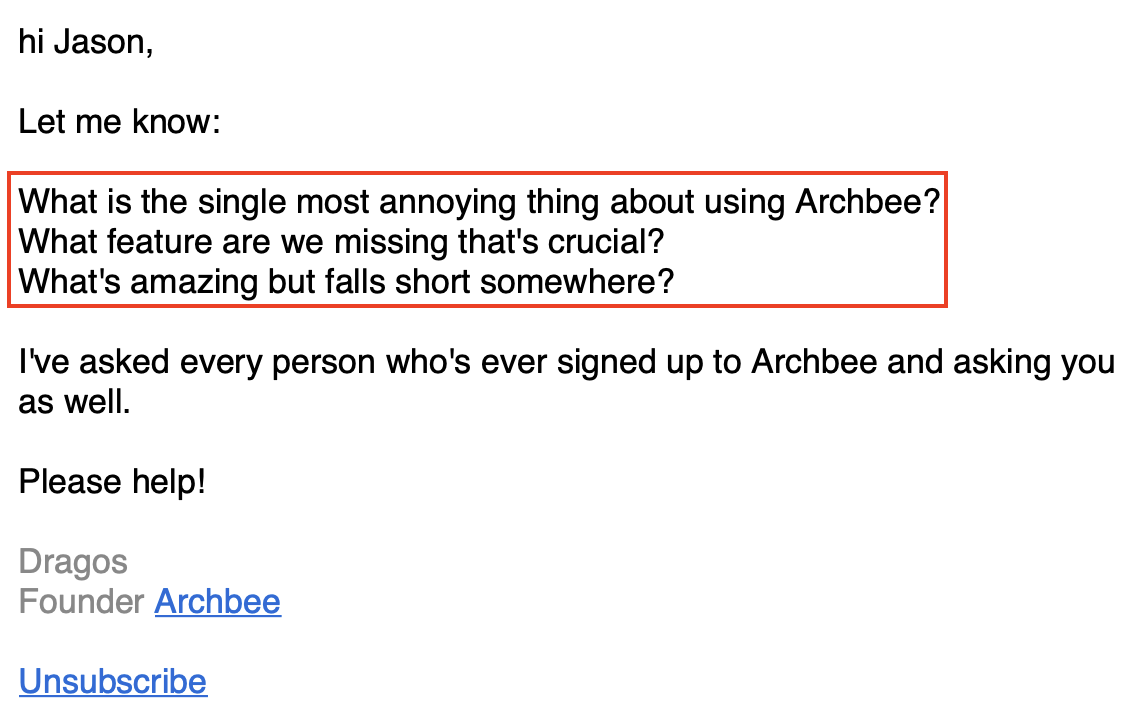 One final tip is to have the email come from a founder or senior person at the company. This will show users that decision-makers will be open to hearing their feedback, so they'll be more inclined to respond.
Try sending these out manually or automate it with a DRIP campaign solution like ActiveCampaign – you'll be surprised at the insights you get from your users!
Session replays
Instead of directly asking for feedback, you can gain insights by analyzing customer behavior. The best way to do this is by using session replays.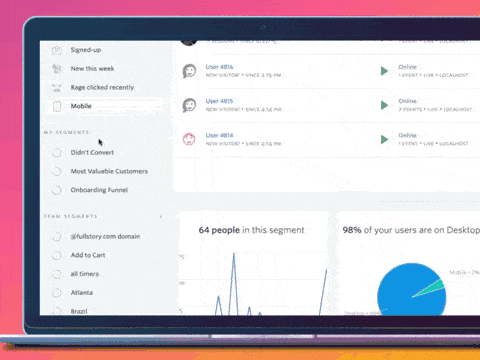 Session replay is an analytics technology that allows you to replay a visitor's journey on a website or application. It allows you to visually see how users are interacting with your website or app.
For example, session replay can reveal not just that a page that has an unusually high bounce rate, but show exactly why with video-like recordings of the user experience on that page. It's an indirect feedback mechanism, where the feedback comes from analyzing the customer's behavior.
Session replay tools like FullStory and HotJar can help you discover and resolve bugs, improve your UX, and boost your conversion rates. Think of feedback from session replay as feedback your customers won't or don't know how to tell you.
Bonus tip – if you're a startup, apply for a FullStory discount! They have a scholarship program for qualifying, early-stage businesses.
Net promoter score (NPS) is a metric that measures customer loyalty and satisfaction.
The beauty of the NPS score is its simplicity, as it's rooted in one simple question that can be answered with a score of 1-10: "How likely are you to recommend our product or service to a friend?"
Tools like Qualaroo make it easy to add one of these pop-up widgets inside your site or app to ask customers to fill out the NPS survey.
The limitation with an NPS widget like this is that you won't be able to collect specific, qualitative feedback, nor allow users to upvote or comment on others' features.
However, the NPS metric can still be extremely valuable to track as a general gauge on how customers feel about your business.
Surveys
Surveys are pretty effective to collect feedback — create a survey using a tool like SurveyMonkey and email it to your customer list. Here are some best practices to get the most out of your surveys.
Keep your questions simple and short.
Use open-ended questions.
Offer an incentive: Consider offering a small bonus like a gift card to your customers to incentivize them to provide feedback, especially if you have a longer survey.
Here's an interesting example of offering an incentive, where Plooto offered the first 50 respondents to their survey a $20 Amazon gift card: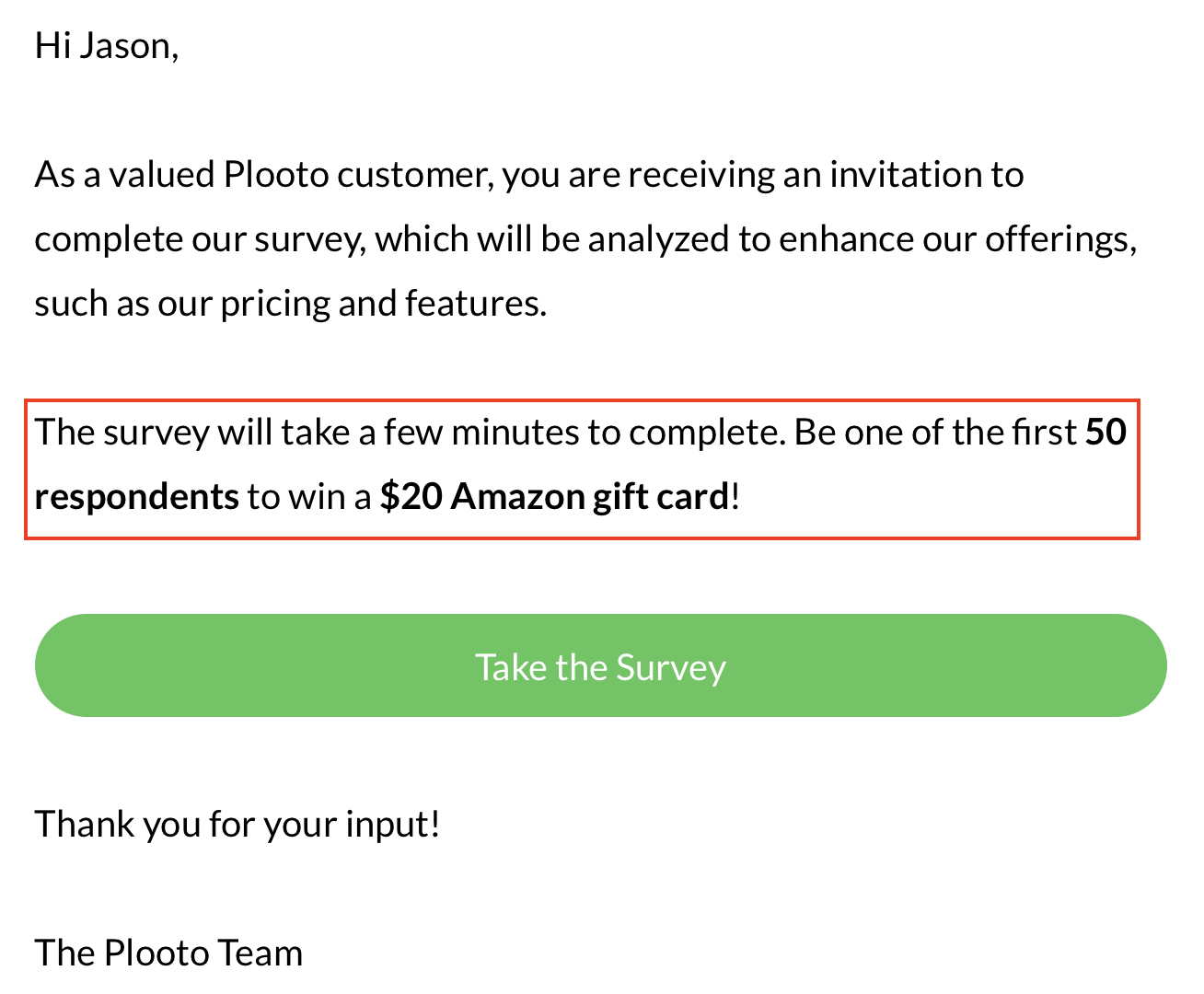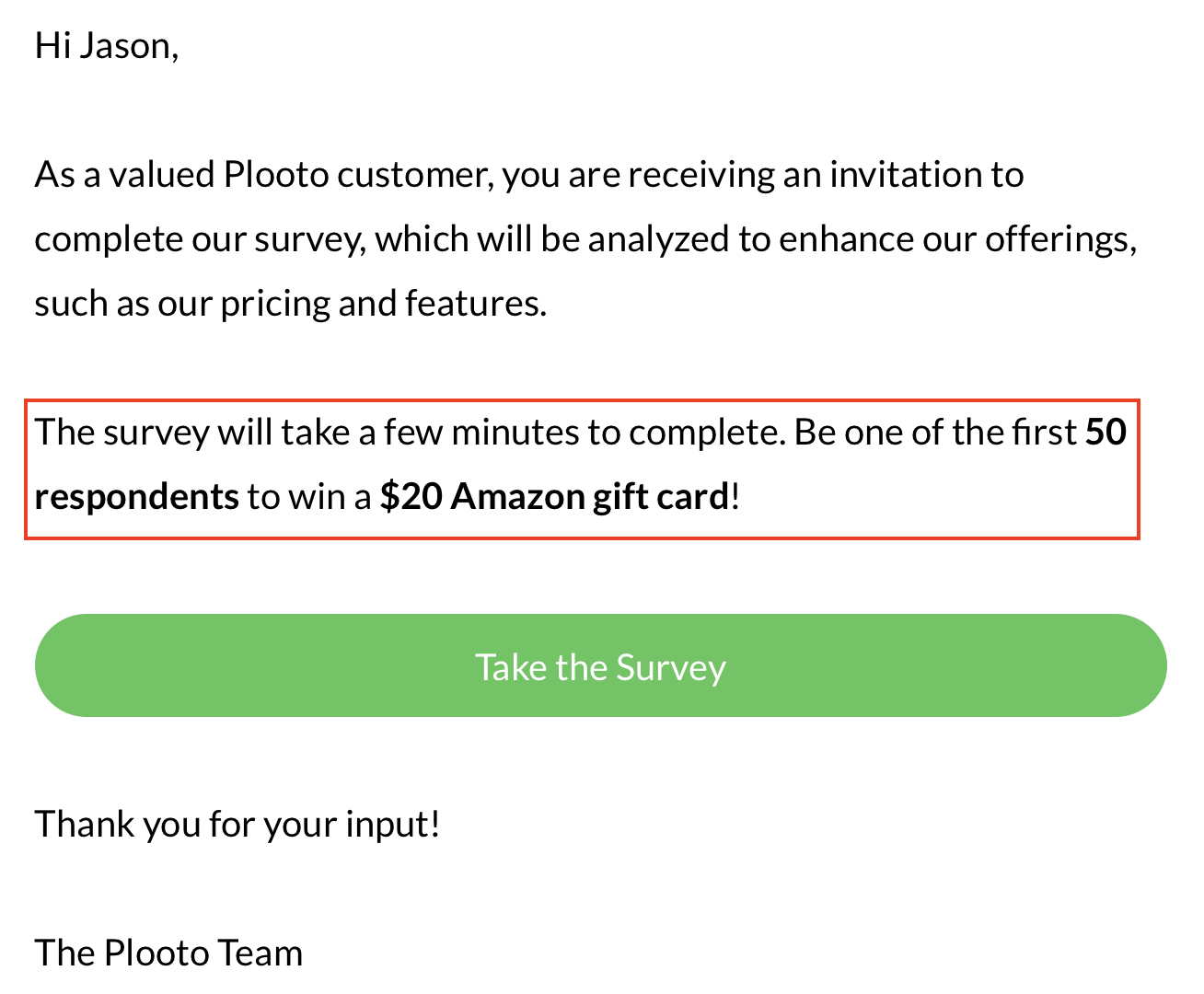 By offering an incentive, customers will be more likely to take the time to share their feedback.
Zoom calls
Having a Zoom call with customers is also an amazing method of collecting feedback. When you have a live call with a customer, you are able to intimately understand their needs and what matters to them and how they really feel about your product.
A great way to do this is to offer an onboarding call to customers at key parts of the customer journey, like when they sign up for a product trial or purchase.
Sabba Keynejad did this beautifully at VEED, a SaaS company in the video editing space. In the early days of his company, Sabba did 15-20 onboarding calls a week with free trial users, where he carefully listened to what they needed. With the feedback gathered on these calls, Sabba consistently improved his product to better serve customers, which played a huge part in VEED scaling from zero to $1M ARR in just 12 months. Super impressive!
Here's a great example by the AnnounceKit team. Below is an email I received during my AnnounceKit free trial, offering a free call to help with my onboarding:
Try requesting Zoom calls with both potential and existing customers. Soon, you'll find yourself generating many important insights based on the feedback you gather on these calls, which you can use to improve your product offering.
Customer feedback drives customer satisfaction and loyalty
Collecting and acting on customer feedback will help you make the product improvements your customers want most. When customers feel like they're being listened to, it drives customer satisfaction, loyalty, and positive word-of-mouth.
"They'll like you even better when you improve in response to their comments, because customers are used to companies ignoring them. If you're the rare exception -- a company that actually listens -- you'll generate fanatical loyalty. You won't need to advertise, because your users will do it for you." - Paul Graham, Founder of Y Combinator
Using Nolt, you can quickly setup feedback boards to crowdsource feature requests, see what your customers want most, and tailor your product roadmap to match their wants and needs.