What is a feedback board and how to use it?
4 minutes  April 21, 2023
Table of Contents
What is a feedback board?
A feedback board is a brilliant tool where you can collect and manage all your feedback in a single, organized place. You can collect feedback internally from team members, externally from users and customers, or both.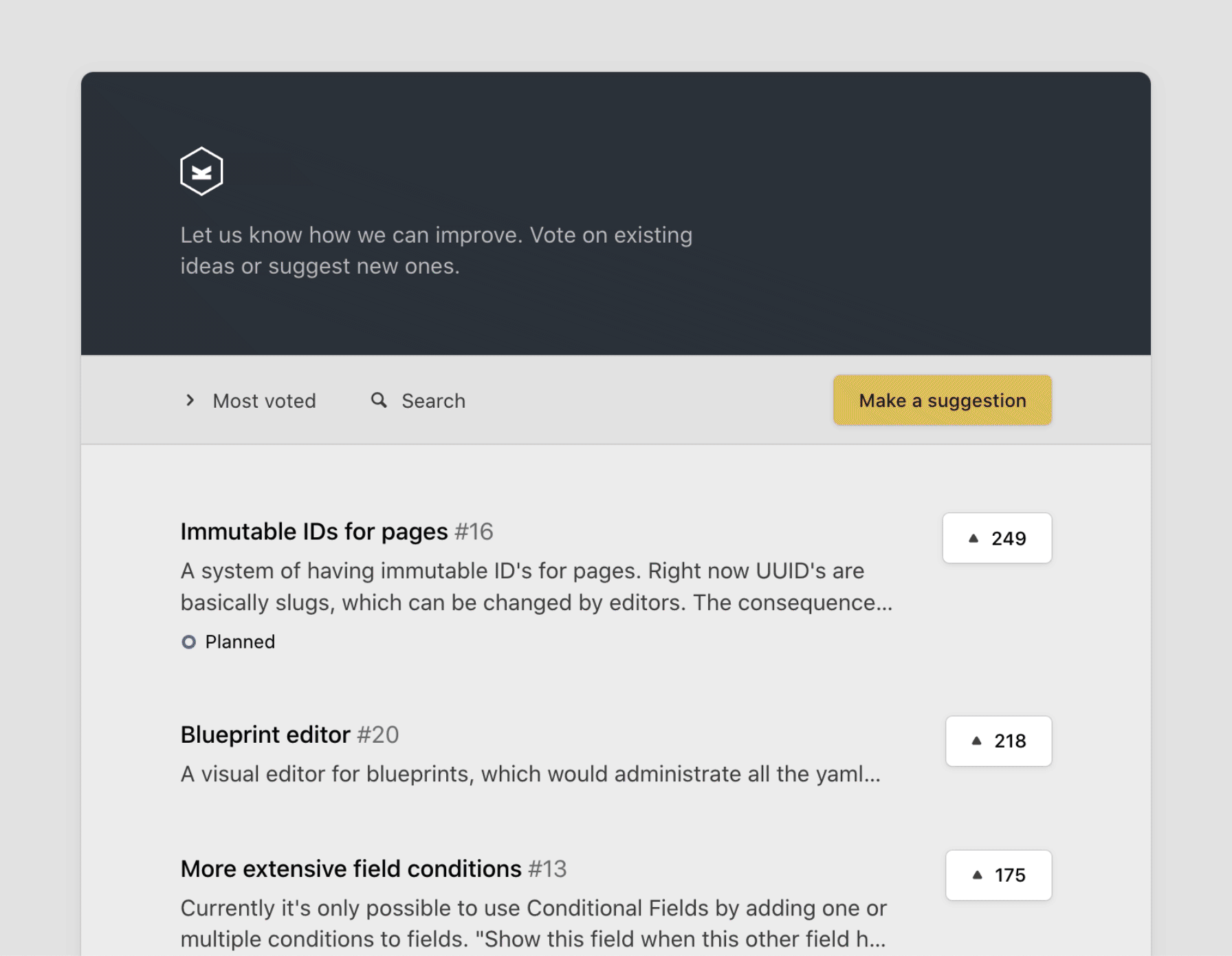 How does a feedback board work?
Feedback boards help crowdsource feedback by providing a single place where people can post, upvote (or downvote), and discuss feedback. Users can browse, search, and comment on each others' suggestions, or submit new requests and ideas. Board admins and moderators can join the discussion to keep the community in the loop, communicate what's on the roadmap by assigning statuses like "planned" or "in progress", categorize suggestions with custom fields, and much more.
Community is at the heart of any feedback board, and what makes a feedback board great is the collaborative nature of it all. The most upvoted requests show what's most important to the community, and the real-time interactions on a board foster a sense of community.
What are the key benefits of using feedback boards?
Using feedback boards has many advantages, including better team collaboration, less waste on building things that don't matter, and staying close to customers. Compared to collecting feedback in spreadsheets, Slack, or Google Docs, feedback boards are much easier to implement and are more effective.
Feedback boards:
Improve the speed and effectiveness of product decisions
Reduce the chances that feedback and requests get missed, lost or forgotten
Build a sense of community
Help customers feel listened to
Who can use feedback boards?
Anyone who is involved in building a product or community can benefit from using feedback boards. Feedback boards are digital, so the most common users tend to be companies in the software, Internet, gaming, and media industries.
How to use a feedback board
Step 1: Create a feedback board
To create a feedback board, there are many providers you can choose from. They come in all shapes and sizes, so we recommend picking one that fits your budget and needs.
Nolt is a feedback board platform with a focus on simplicity and speed. Here is an example of a Nolt board in action: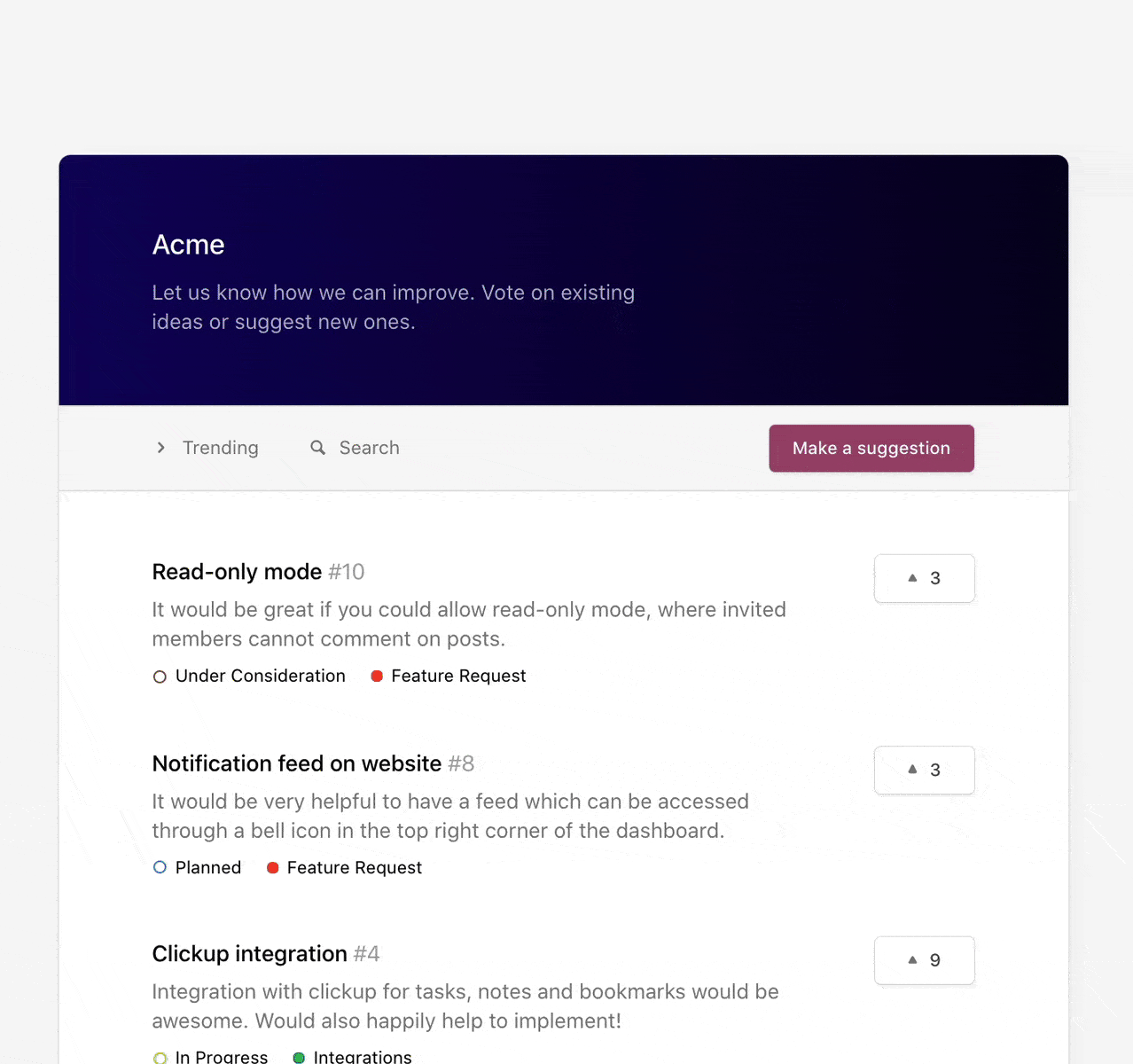 Regardless of which provider you decide to move forward with, make sure it fits your workflows and budget.
Step 2: Categorize the feedback you will collect
Now, decide on how you will categorize your feedback. You can tag feedback by category in order to keep your board organized. Without properly categorizing feedback, your feedback board can quickly fall into disarray, especially if you have a lot of users. Below are some example categories for inspiration:
Priority
Select
Product
Select
Tags
Multi-Select
In order to make sure you can set these up in your board, make sure your provider supports "custom fields". Having custom fields will make life easier for your users as well, as they'll be able to filter and search by the categories you build through those custom fields.
Also, you can get users to self-select the type of feedback they're submitting, making life easier for you. To do this, customize the posting form that your users will use to submit their feedback, and make some fields mandatory.
Tip: Nolt allows unlimited custom fields to fit your workflows. Learn more about custom fields here.
Step 3: Make your feedback board easy to find
You will want to make your feedback board easy to find for your users. Add a link to your board inside your website or application.
Common places where people add links to their feedback board are the help menu, website footer, feedback tab, or in the user dropdown. Here are some examples of where links are typically added:
Consider also sharing your feedback board with your users by making an announcement where your users hang out, such as your Twitter page, Discord channel, or an email blast. This will help you get the ball rolling!
If your board is empty and you're finding it difficult to get users to start adding feedback, try leading by example and add a few of your own ideas. Users will catch on quickly.
Tip: Nolt has an optional website widget that makes it easy to add your board inside your website or application, if you want to go the extra mile. Learn more about our website widget here.
Step 4: Interact with users on your feedback board
Once you make your board easy to find, you will start seeing the feedback come in. Engage with people to create a welcoming space. Make sure to respond to people in a timely manner and respond back with friendly messages – users pick up on this and it goes a long way.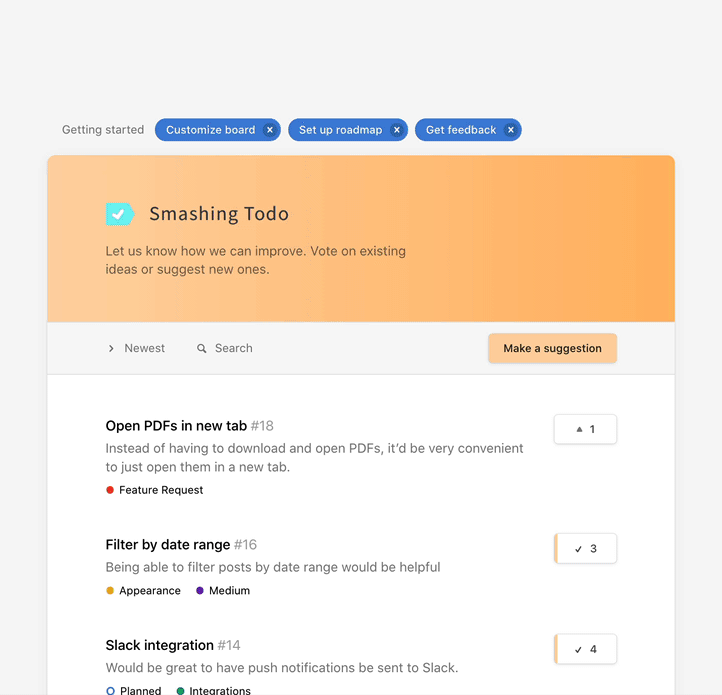 Step 5: Work on popular requests and keep users in the loop on your progress
You'll be able to see which requests have the most upvotes. Often times, the most upvoted posts are the most demanded, so you can add those requests to your product roadmap and move quickly.
Work on the most requested ideas. When an idea moves to a new stage (under consideration, planned, in progress, etc.), make sure you tag it so users are updated and kept in the loop.
Check out Nolt
Nolt provides simple, beautiful and effective feedback boards that can help you collect and organize feedback within minutes. Start now and create a feedback board of your own for free.
Sign up for a free trial
.