Getting started
Nolt is a beautiful, collaborative place for all your user requests – no more outdated spreadsheets or chaotic Trello boards. It's super easy to get started and to master it!
The basics
Nolt has only four key components, but it comes with unlimited possibility:
Board – A Nolt board represents a project and is a collaborative location where users can make suggestions, collaborate, and vote on existing ideas.
Post – The fundamental unit of a board is a post. Posts are used to represent user requests and ideas.
Status – Statuses reflect the typical states a post can be in over its lifecycle. Assign a post to status to add it to the roadmap. Make as many statuses as you need.
Field – Custom fields let you add additional data to posts. You can create a field for priority, cost, or anything else that's relevant to your unique needs. A Select field, for example, is perfect for tagging and categorizing your data.
Nolt has style
We support a selected subset of the Markdown syntax in comments and custom text fields, including [links](http://example.com), **bold**,*italic*, lists, code blocks, and others.
Linking posts
We believe that your posts should be free to coexist, intermingle, and link between one another, like your shower ideas – and all your non-shower ideas – throughout the day. Link posts by typing # followed by the first few letters and a suggestion box with posts will appear that match your text.
Vote on behalf of users
Track feedback from other channels or vote on behalf of those who don't have time to participate. Clicking on the list of voters on any post allows you to add voters manually.
Merge ideas
To limit duplicate suggestions, Nolt searches for similar user requests when a new post is being created. However, sometimes users submit identical ideas, so you can also merge those posts to avoid redundancy.
Navigate to the post that should be closed, select Merge in the upper-right corner, then search for the "original" idea. After confirming your selection, the original post will receive all votes from the closed one. An activity entry in both posts will indicate a successful merge.
Organize posts with tags
Custom fields not only enable you to store essential information in one place, but they are also perfect for tagging and categorizing posts. Create a field with the type Select or Multi-Select and define the available options in the list.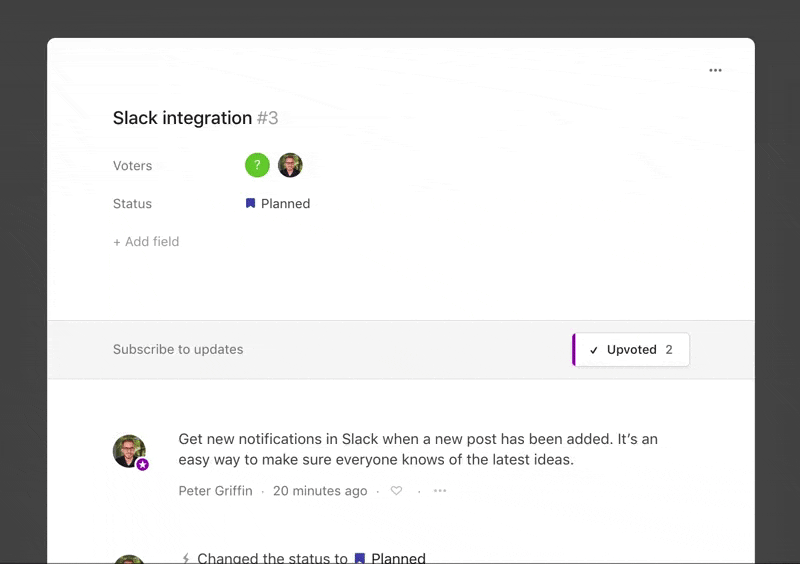 Customize your submission form
Change the form labeling to make it more relevant to your use case. Use placeholder text for additional instructions and rules.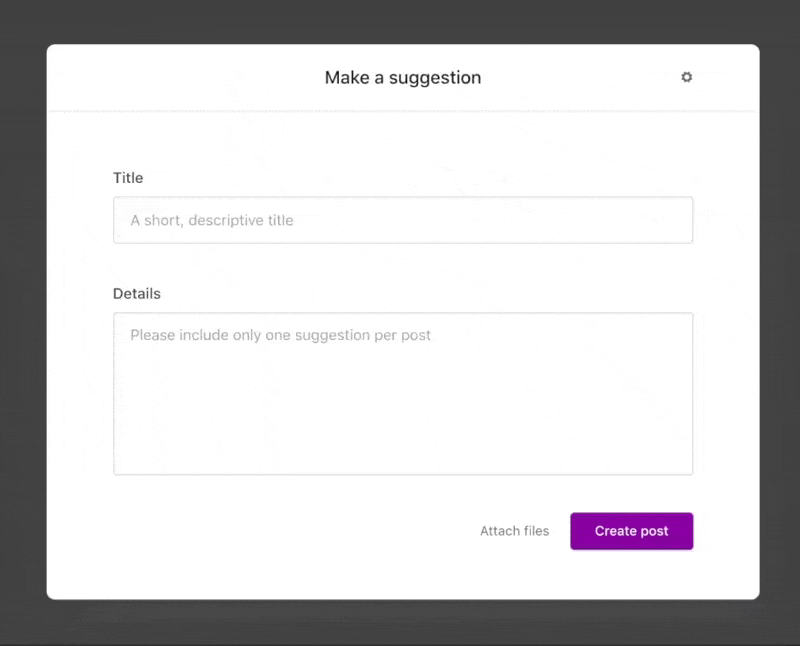 Collect additional information from your end-users by extending your submission form with your custom fields.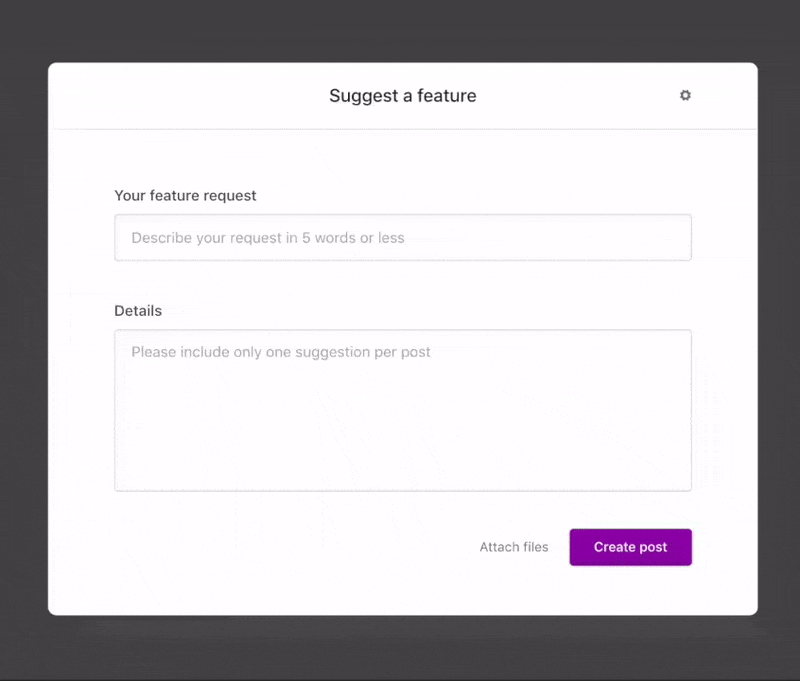 Store internal notes
Create an admin-only field to store any private notes you might have about an idea. Markdown enables you to add text styling and links. With private custom fields, you can record sensitive information while keeping the data in context.
Connect your existing users (SSO)
Do you have an app or website? Eliminate the need for your users to sign in and know exactly who is contributing to your board nonetheless with our Single Sign-On mechanism. This makes it easier for users to participate and will lead to more feedback.
Do you write code? Setup is easier than you think: generate a JWT for the currently logged-in user and pass that token to your board's SSO endpoint. Learn more.
But wait, there's more…
Integrations – Nolt works with the tools you already use – such as Jira, Trello, Slack, and more. Stick with the apps that already work for you.
Custom statuses – One size doesn't fit all, which is why you can fully customize statuses to reflect your unique workflow.
Lock posts – Lock conversations on a post permanently or temporarily to defuse heated interactions or when the conversation is no longer constructive.
Anonymous voting – You decide whether or not your end-users can vote and contribute to your feedback board without revealing their identity.
Embeddable widget – Integrate Nolt into your website with our in-product widget. Widget + SSO = 🚀
And much more… Play around and explore!
Thank you so much for trying Nolt, and we hope you will receive many inspiring ideas!